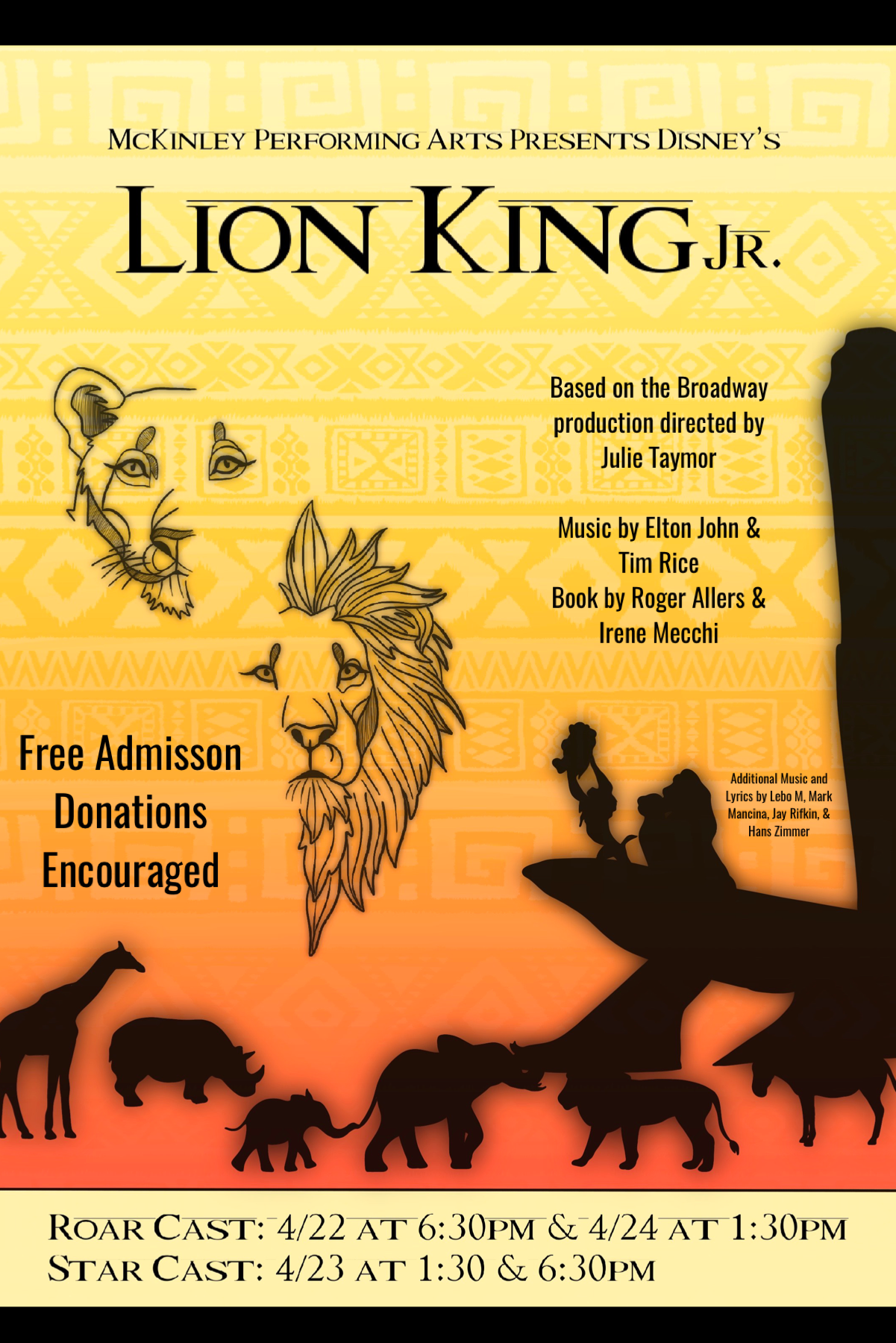 LIVE Performances of The Lion King Jr. on April 22, 23, and 24
The African savannah comes to life onstage with Simba, Rafiki and an unforgettable cast of characters as they journey from Pride Rock to the jungle… and back again, in this inspiring, coming-of-age tale featuring the music of the award-winning Broadway musical and movie. This production is performed by the talented students of McKinley Elementary in the Multipurpose room.
ROAR CAST – April 22 at 6:30pm & April 24 at 1:30pm
STAR CAST – April 23 at 1:30pm & 6:30pm
FREE ADMISSION – A donation to the McKinley Patrons of the Performing Arts Fund is encouraged
---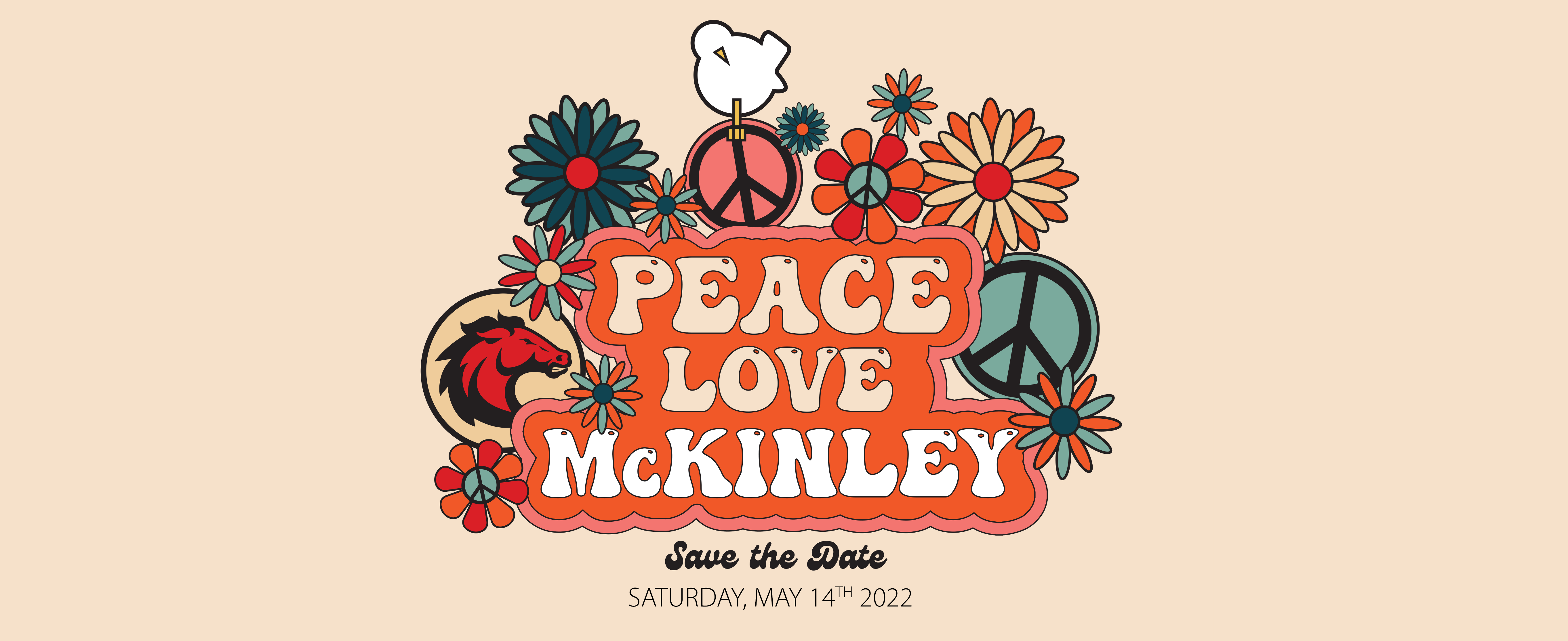 Tickets to Our Annual Spring Fundraiser on Saturday, May 14th Go On Sale This Week!
We Need Donations For Our Silent Auction and Raffle!
Our Spring Fundraiser is made possible through generous donations from businesses and individuals in the McKinley and the greater Sonoma County community. We are collecting the following items to make our event a huge success and help support our students:
Restaurant Gift Cards
Services (spa, hairdresser, home organizing, tutoring, lawn services, etc.)
Summer camps
Wine and wine tastings
Event tickets (concerts, professional sports, fairs, festivals, etc.)
Retail items
Vacation homes
Contact Erin Schlueter with your donations! We appreciate your generosity.
Tickets Go on Sale this Week!
Travel back in time and experience Woodstock! Our Spring Fundraiser will take place on Saturday evening, May 14th in Herzog Hall at the Petaluma Fairgrounds.
Join us for a silent auction with live music, raffles, and plenty of fun to support our students. There will be a delicious buffet provided by McKinley family-owned What A Chicken and a cash bar.
Tickets to our past spring fundraisers have sold out quickly, so make sure you are following the McKinley PTA Facebook Page and have joined our ParentSquare group to be the first to know when ticket sales go live!
---
Your PTA Fundraising Dollars at Work
Last week, the Bay Area Discovery Museum's Try It Truck stopped by McKinley for a rainy afternoon of fun science enrichment activities! This activity was funded by our McKinley PTA.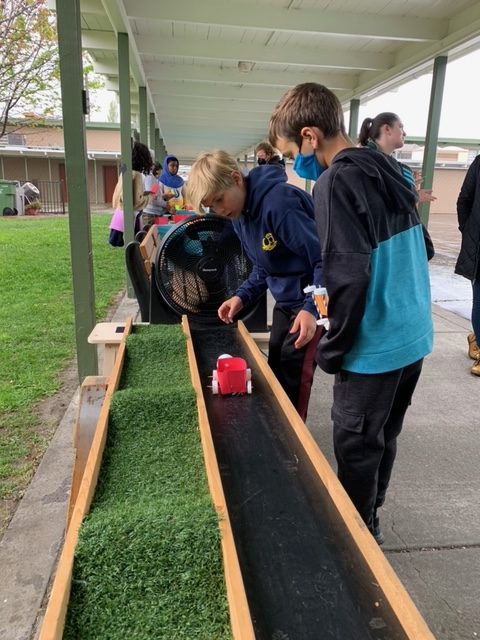 ---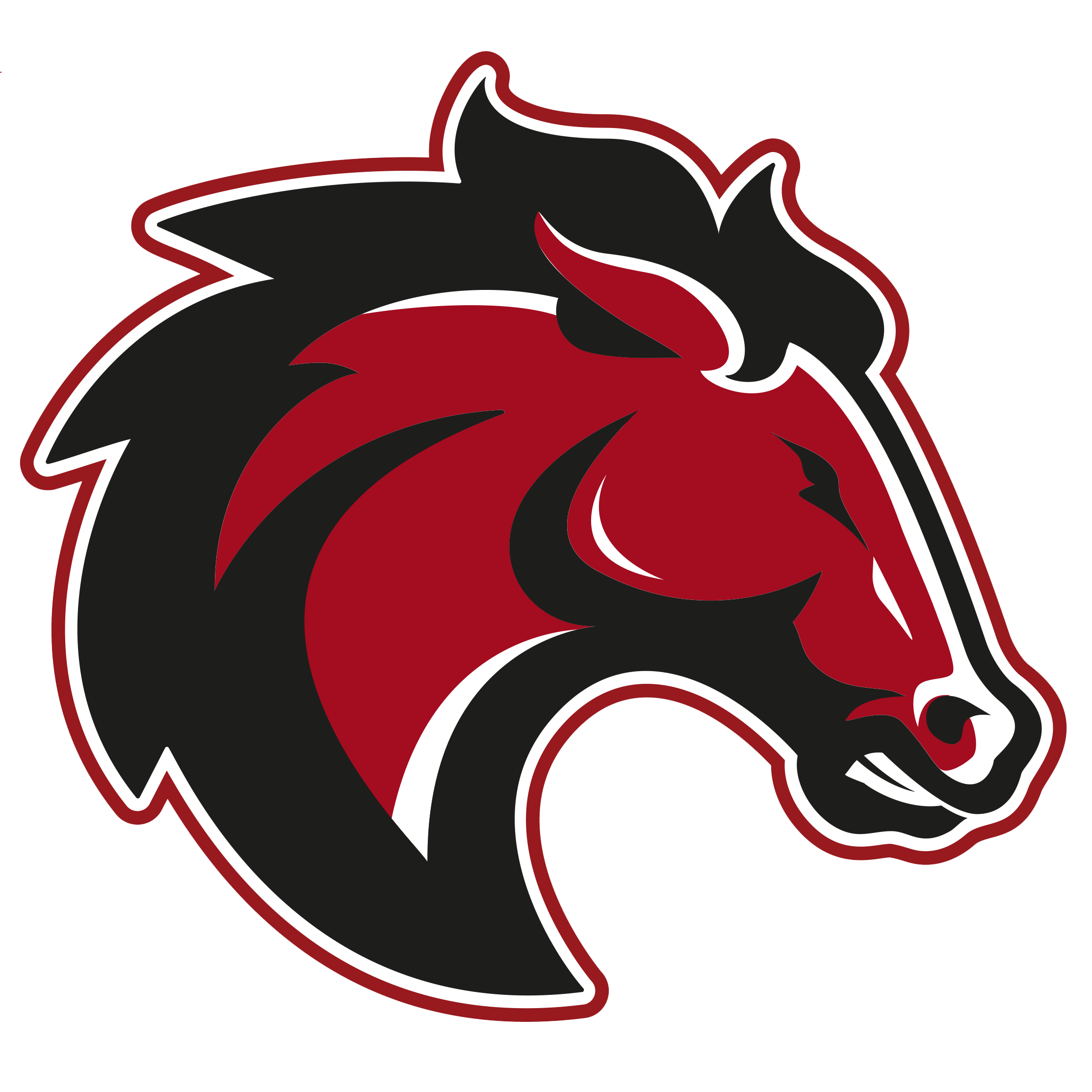 PTA General Meeting This Wednesday, April 20th at 6:30pm
Join us on April 20th at 6:30pm IN PERSON in the Multipurpose room for our April PTA General Meeting.

Learn about all our current programs and vote on upcoming initiatives. Spanish translation will be provided.
---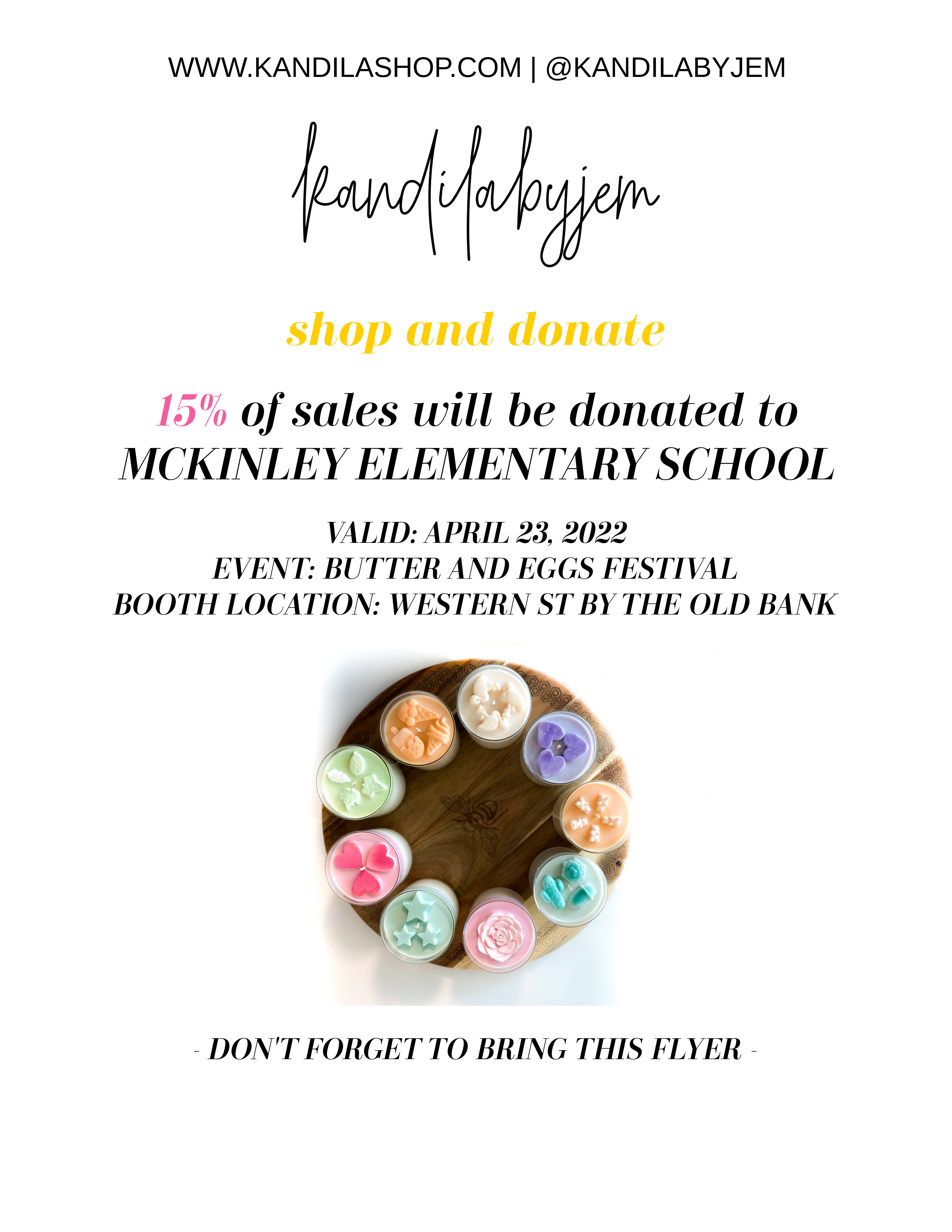 Shop and Donate at Kandila by Jem's Booth at the Butter and Eggs Festival – April 23, 2022
Purchase unique hand-poured soy candles and soaps from Kandila by Jem and 15% of the proceeds will go to McKinley!

Simply visit the Kandila by Jem booth at the Butter and Eggs Festival on April 23 located at Western Street and Petaluma Boulevard by the Old Bank.
---
Shop and Donate at Rusty Hinges – Order by Monday, April 25th – Pick up on April 27th and 28th
Order a Provisions Bundle box which includes fresh produce, eggs, milk & dairy products, pastured protein and bread selections for a week. 20% of the proceeds will go to McKinley.
Pick up at Rusty Hinges Ranch on April 27th and 28th.
212 Chileno Valley Road, Petaluma CA 94952
---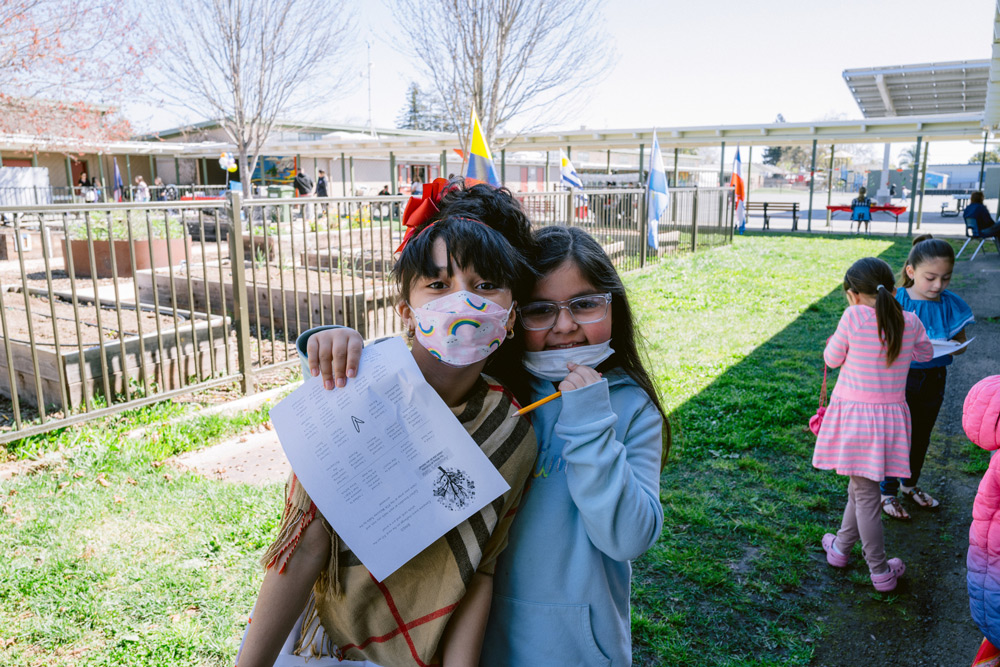 Join us for a FREE dinner at the McKinley Block Party on
Thursday, April 28
Mark your calendars to join your fellow McKinley families at school for a FREE Dinner on Thursday April 28th from 5:30pm – 7:30pm at the PTA Sponsored "McKinley Block Party"
Come for dinner, stay for community, leave enlightened!
---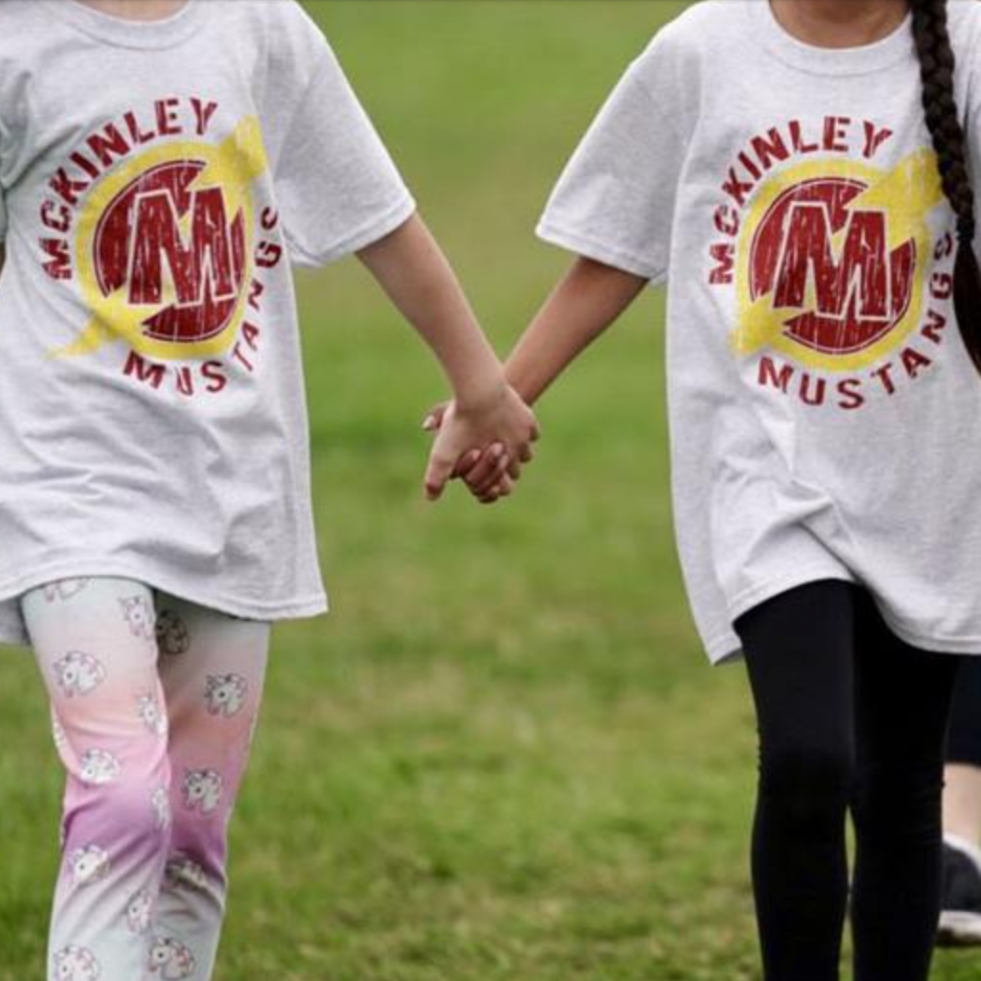 Recess Playground Volunteers Wanted!
Do you want to help your teacher in a fun and rewarding way?
In a recent survey of McKinley staff, the #1 ask was for more parent support. One of the ways staff identified we could help is by volunteering out on the blacktop during recess and lunch, allowing staff more time to focus on meeting the complex needs of their students.
Just one recess (10:05 – 10:45 am) or lunchtime (11:45 am – 1:00pm) per week (more or less if you'd like), one-month commitment to start. We welcome a longer commitment.
Click here to sign up – grab a friend to join you, or plan to make new friends!
---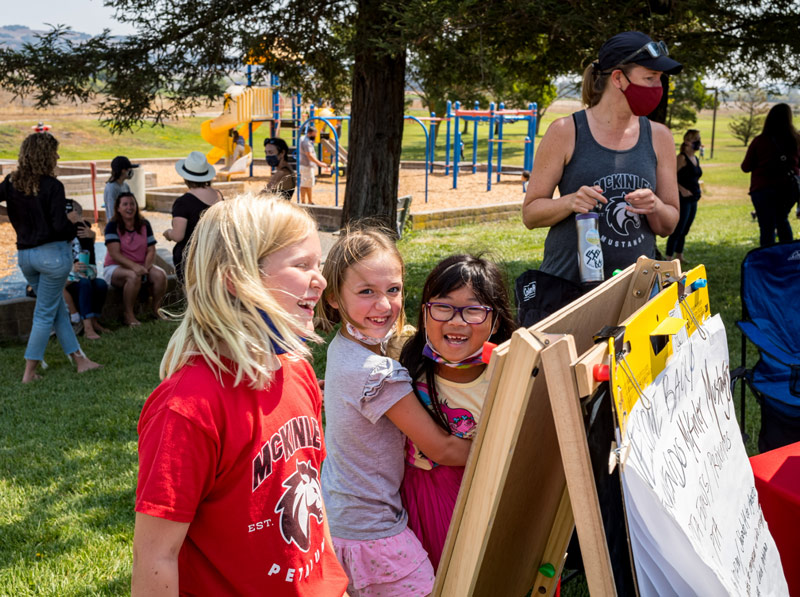 Make a lasting impact on McKinley. Join the PTA Board
Are you interested in making a lasting impact on your child's school? Our award-winning McKinley PTA operates with a $100,000 budget per year to provide resources and support programs, including experiential learning, bilingual instruction, classroom supplies, school community events, and much more.
As we start looking ahead to the 2022-23 school year, we're looking for energetic and dedicated individuals to help fill PTA board positions for:
President
Vice-president
Financial Secretary
Communications
Parliamentarian
Fundraising
A full description of the roles and responsibilities can be found here.
If you are interested in any of these roles — or you would like to nominate someone — please email us at and let us know!
---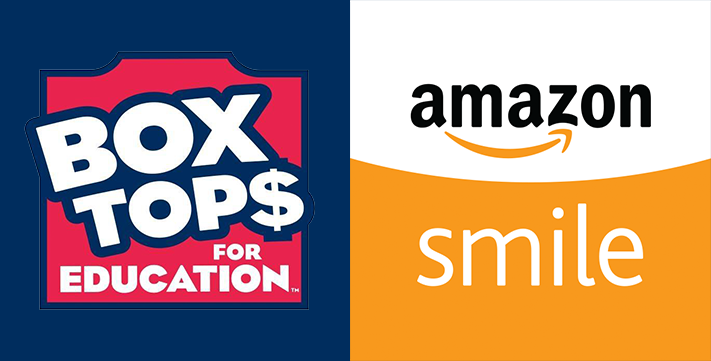 Earn donations for McKinley when you shop without additional cost to you!
1. Shop at Petaluma Market or Oliver's Markets: these grocers will donate 2.5% of your purchase amount to the McKinley PTA if you have the Store's Community Card. Learn how to get started

2. Shop on Amazon: Shop through smile.amazon.com and the charity of your choice will receive a portion of your purchase.
Follow these instructions to add McKinley as your chosen non-profit. You may also configure your Amazon mobile app to ensure all your purchases are credited to our school.
3. Scan your grocery receipts with the BoxTops app: Did you know you can now easily collect BoxTops on your phone? Simply scan your receipts with eligible items using the BoxTops app and you are done. No more clipping!

Follow the full instructions here to get started!
---